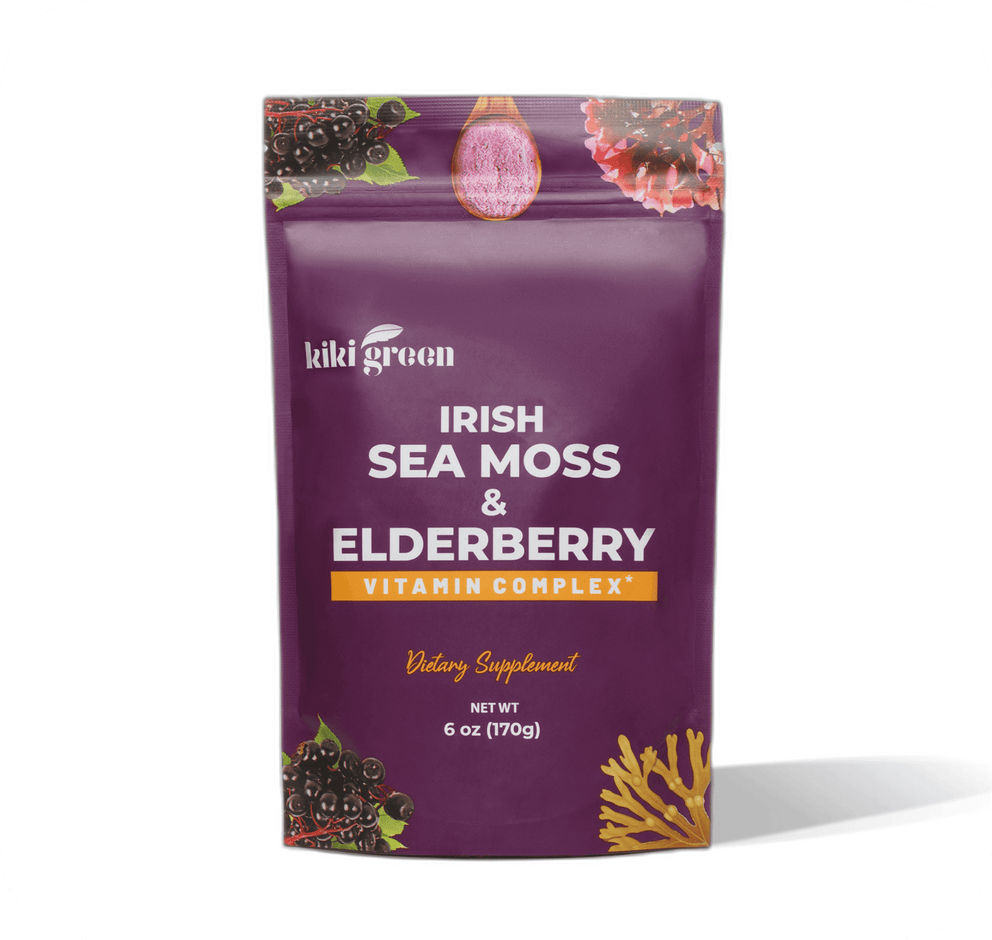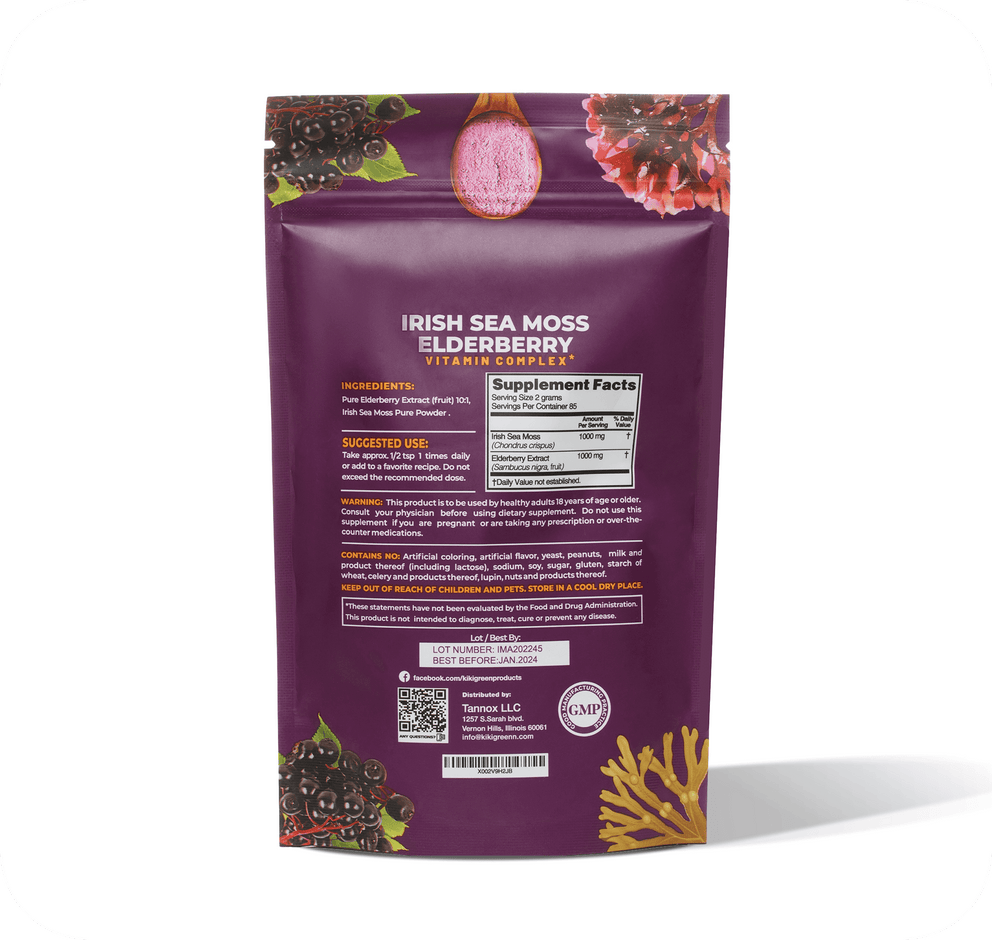 Sea Moss Powder with Elderberry - Immune Support, 6 Oz
$23.90
INFO Give Your Body What It Needs: Looking for a way of ensuring proper supplement intake all year round? Would you like to make sure your defense lines stay strong during the cold season? The Kiki Green immune support supplement is a perfect choice! Premium Quality Formula: This sea moss powder is made with superior quality, natural herbal extracts, a highly potent formula based on pure elderberry extract 10:1 ratio and Irish sea moss powder, with no artificial fillers, colorants.  Enhanced Support: This immune system booster can have key benefits for men and women of all ages, promoting joint, digestive and thyroid support, helping with energy levels, while strengthening your natural defense systems! Nutrient-Packed: Rich in essential vitamins and minerals, with important amounts of vitamin C, zinc, iodine and dietary fiber, these keto vitamins promote an overall well-being and healthier lifestyle.  Easy to Digest: The Kiki Green elderberry vitamins come in 6 oz packs enough for 85 servings, being easy to mix with water, juice, smoothies or sprinkled on your favorite foods. Our powder has enhanced bioavailability, ensuring maximum nutrient retention. We Are Trusted Brand - KIKI Green is a premium seller, every client is very important to us. The quality of dietary supplements is our top priority. Our dietary supplements are manufactured in strictly controlled facilities using a thoroughly controlled manufacturing process. We are absolutely sure of the highest quality of our products, but, if there is something that made you unhappy with your purchase, you are always welcome to contact us directly!
Learn More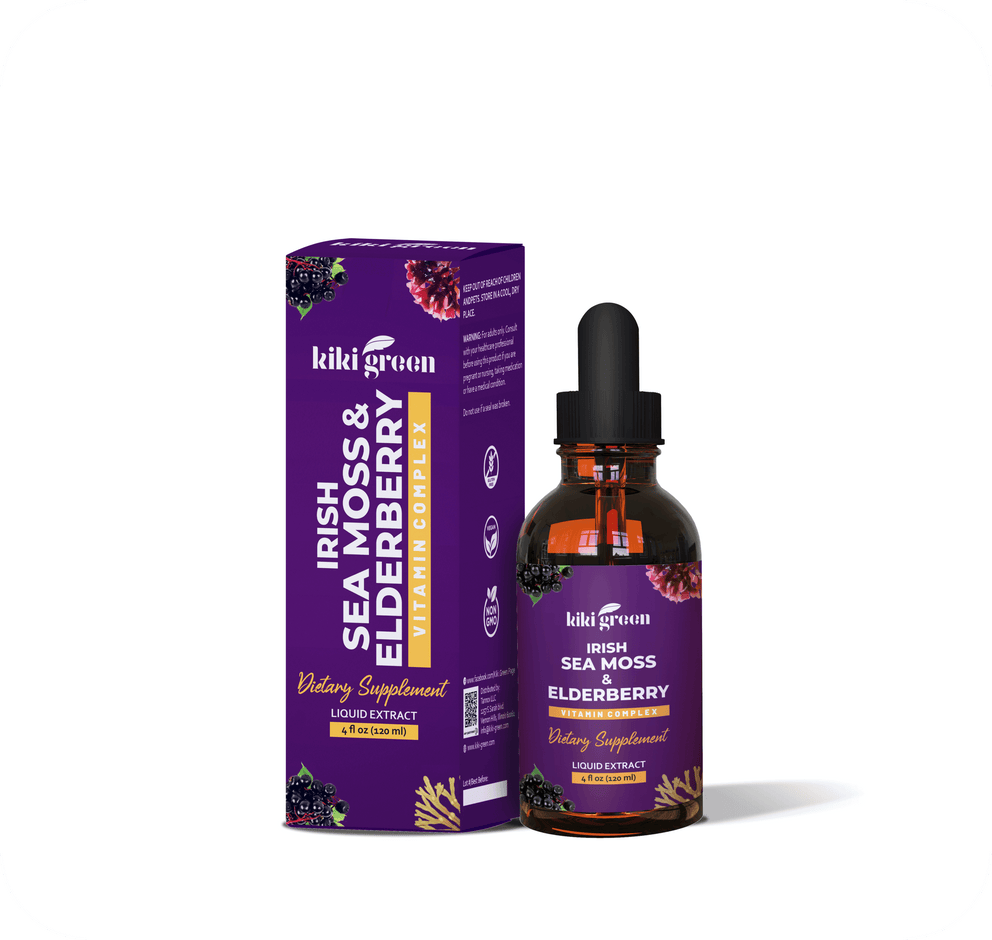 Liquid Extract Irish Sea Moss and Elderberry 2 Oz
$19.60
Boosted Natural Elixirs Dive into the world of wellness with our Liquid Extract Irish Sea Moss and Elderberry. Meticulously sourced and perfectly combined, this 2 Oz extract promises a myriad of health benefits tailored for the modern individual. Holistic Health Benefits The powers of Irish Sea Moss and Elderberry have been revered for centuries. Rich in essential minerals, vitamins, and antioxidants, this duo combats daily fatigue, boosts immunity, and fosters optimal body function. By introducing this into your daily regimen, you're not just consuming a product; you're adopting a healthier lifestyle. Convenient Wellness in a Bottle Gone are the days when maintaining health required handfuls of tablets or tedious brews. Our Liquid Extract is hassle-free and perfect for on-the-go lifestyles. Just a few drops, and you're paving the way for a fortified body and a sharper mind. Mother Nature's Trusted Ingredients With every drop, you imbibe nature's purity. Our blend is free from artificial additives, ensuring you get the raw and untainted goodness of Irish Sea Moss and Elderberry. Trusted by ancient civilizations, reimagined for today's world.
Learn More